What Is the Best Way to Finance Home Improvements?
It costs money to renovate your property. However, you are not required to pay for every project yourself. Home remodeling projects can be financed in a variety of ways. There are a few funding options that will make home improvement worthwhile—and put extra money back in your pocket—ranging from Green Home Grants to post-installation tax advantages.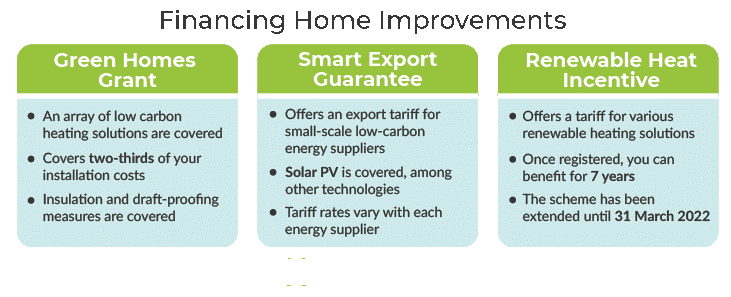 Smart Export Guarantee
By the year 2050, the UK wants to have net-zero carbon emissions. However, the government needs residential areas on board if it is to achieve this goal.

Here we have the Smart Export Guarantee (SEG). This programme provides export tariffs for low-carbon emission technologies such anaerobic digestion, micro combined heat and power, solar, wind, and hydropower.

Companies will compensate you for the energy you export to the National Grid under the SEG. You can currently get anywhere from 2 to 5.6 p/kWh.

You could be able to save a few hundred pounds a year on your energy bills thanks to the SEG. Your house modification would therefore eventually pay for itself, making it a worthwhile investment.
Renewable Heat Incentive
The Renewable Heat Incentive (RHI) programme in the UK also provides financial assistance to promote the installation of renewable heating equipment. This incentive aims to lessen the consequences of climate change and assist the UK in achieving its target of using renewable energy sources for 12% of its heating needs.

RHI can increase the long-term value of significant investments in solar thermal, biomass boilers, air source and ground source heat pumps. You can get tariffs for seven years after installing your system.

The RHI rate today is roughly 21.12 p/kWh. You may save up to £4,234 a year if you use 20,000 kilowatt-hours of renewable energy.
Green Homes Grant
Update: The Green Homes Grant is ending on March 27, 2021.
By 5 p.m. on March 31, 2021, all new applications for the Green Homes Grant will be closed. The programme had previously been extended through March 31, 2022. However, the government recently declared that the deadline for submissions would be one year earlier, on March 31, 2021. In the UK, now is the ideal time to do house upgrades. Homeowners in England are qualified for financial vouchers that can help pay for two-thirds of your environmentally friendly home improvements—up to $5,000—thanks to the new Green Homes Grant programme.

These enhancements include changes to window insulation, heat pumps, solar thermal systems, and insulation.

If you reside in England and complete a home improvement project using the Green Homes Grant programme, the contractor must receive approval through the government-backed MCS and Trust mark quality assurance programs.

You will need to consult another source for energy-efficient home modifications if you reside outside of England in the UK. The Nest programme will assist you in determining your eligibility for free upgrades in Wales. Home Energy Scotland offers neighborhood help centers all on Scotland, lowering homeowner bills and combating climate change. NI Energy Advice helps householders in Northern Ireland who are looking for energy grants.